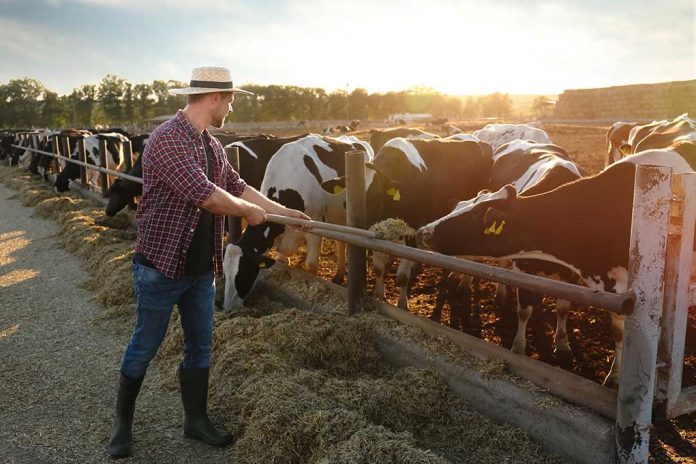 (USNewsBreak.com) – Cattle and dairy farmers make a living off their livestock, and any setback can be disastrous for business, especially when it involves thousands of lost animals. On Monday, April 10, South Fork Dairy suffered a devastating blow when an explosion rocked the facility.
The blast occurred in the evening around 7 p.m., and authorities were called to the Dimmitt, Texas, scene within minutes with reports of a fire and employees trapped. Investigators found the blaze had spread to the holding facility of the dairy farm and claimed the lives of 18,000 cows.
Texas dairy explosion leaves at least 18,000 cattle dead, 1 person critically injured https://t.co/yaBgoZ01mX

— Fox News (@FoxNews) April 12, 2023
One person, a female worker, was also critically injured in the tragic incident when she became trapped in the holding area. She was rescued from the dairy building and then airlifted to a hospital in Lubbock, where she is currently receiving treatment. No other employees were hurt in the blast or the subsequent fire.
As for the cows, Castro County Sheriff Sal Rivera told KFDA that initial reports of 18,000 dead were probably accurate, though there were still some that had severe injuries and would likely need to be put down. The ones that did survive have been moved offsite while cleanup is underway.
In a statement, Texas Department of Agriculture Commissioner Sid Miller said the incident was "the deadliest barn fire for cattle in Texas history" and that the agency is thankful for all of the first responders who helped put out the blaze.
Authorities are still looking into what caused the explosion, but there is some speculation that it has to do with a piece of equipment that may have overheated and exploded. The Texas State Fire Marshal's office has launched an investigation into the matter. Commissioner Miller said he'll make the facts available as they come and "make sure the public is fully informed" to help prevent future tragedies of a similar nature.
Copyright 2023, USNewsBreak.com